LINDLEY CENTER FOR STEM EDUCATION
BUILDING OVERVIEW
Named after current Santa Rosa Junior College Trustee W. Terry Lindley, the new 95,000-square foot Lindley Center for STEM Education will modernize and expand a number of programs, and provide new hands-on learning activities to support students in their educational journey. Building design was guided by three key concepts:
Enhancing Academic Support:  Learning must continue outside the classroom. The support resourced need to be adjacent and accessible to labs and classrooms, with MESA being moved into the Lindley Center along with creation of a new STEM Success Center.
Student-Centered Spaces:  In the Lindley Center, multiple spaces throughout all three floors will be venues for students to meet, collaborate, and feel a part of the SRJC community. Additionally, many of these areas are adjacent to faculty offices to connect students to the individuals most invested in their success.
Hands-On Learning.  Students learn by doing. It is important to emulate what students would see in the workplace and at four-year universities in the multiple lab spaces throughout the building.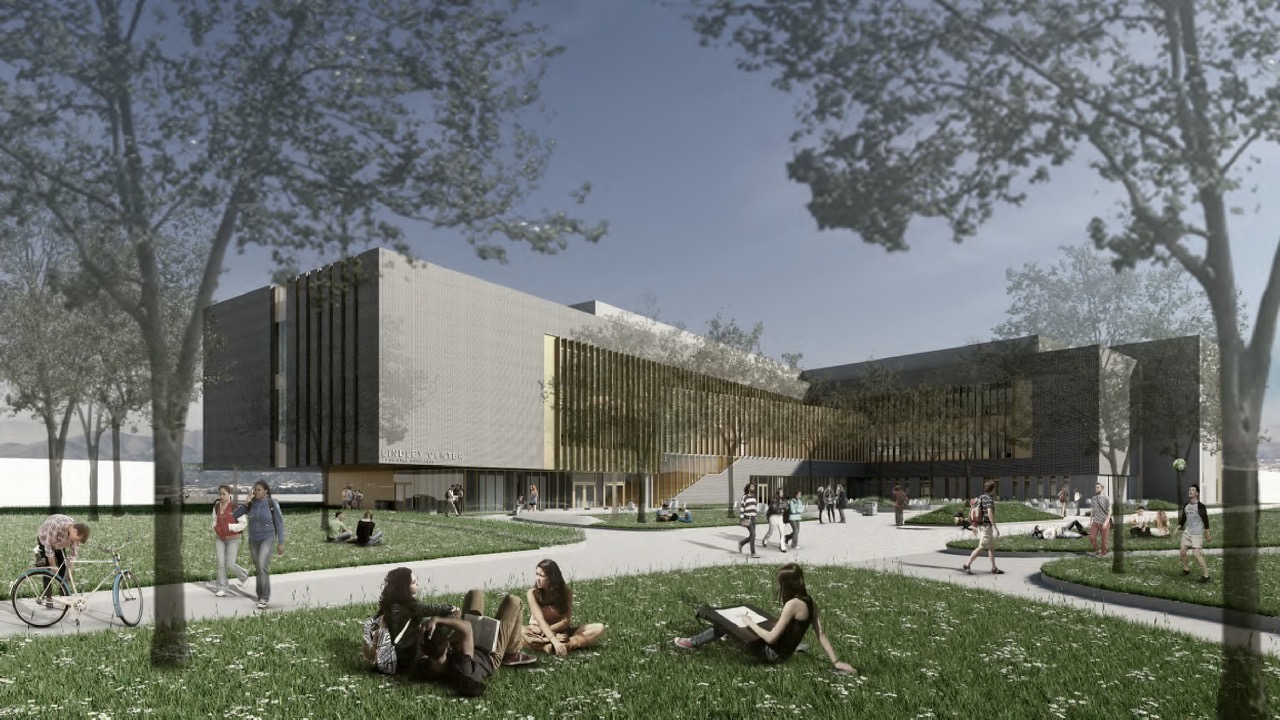 KEY BUILDING FEATURES
A new Innovation Center to promote hands on learning

A new STEM Success Center to expand and enhance current student support resources

A meeting space for various student clubs in and outside of STEM

Community spaces that foster active learning

Intentional areas for students to study, socialize, and collaborate throughout the building

Expanded chemistry and physics labs along with a new large lecture hall

Third floor terrace to give sweeping view of campus

 
# # #
 
INNOVATION CENTER
The Innovation Center is not just a "maker space."  The over 4,000-square feet space is a hands-on, interconnected lab, with four discrete areas that takes students through the creation process.
Lab #1: The DESIGN space will allow for students to collaborate, research, and create using the latest CADD software.
Lab #2: The MAKE space is where students will bring their projects to life using various materials (e.g., wood, foam board, plastics, etc.) and working with industrial 3D printers, laser cutters, and CNC machines.
Lab #3: The BREAK space is where students will test and refine their creations -- but, inevitably, in the creation process things may break.  This area is also designed to be an exhibition and display space where models and projects can be presented.
Lab #4: The Virtual Reality (VR) Lab is where the impossible comes into digital life. Creations can exist in the digital space where there are no limits. Outfitted with 24 state-of-the-art VR stations, students interested in architecture, interior design, 3D modeling and animation, and gaming will come here to create and interact with virtual worlds.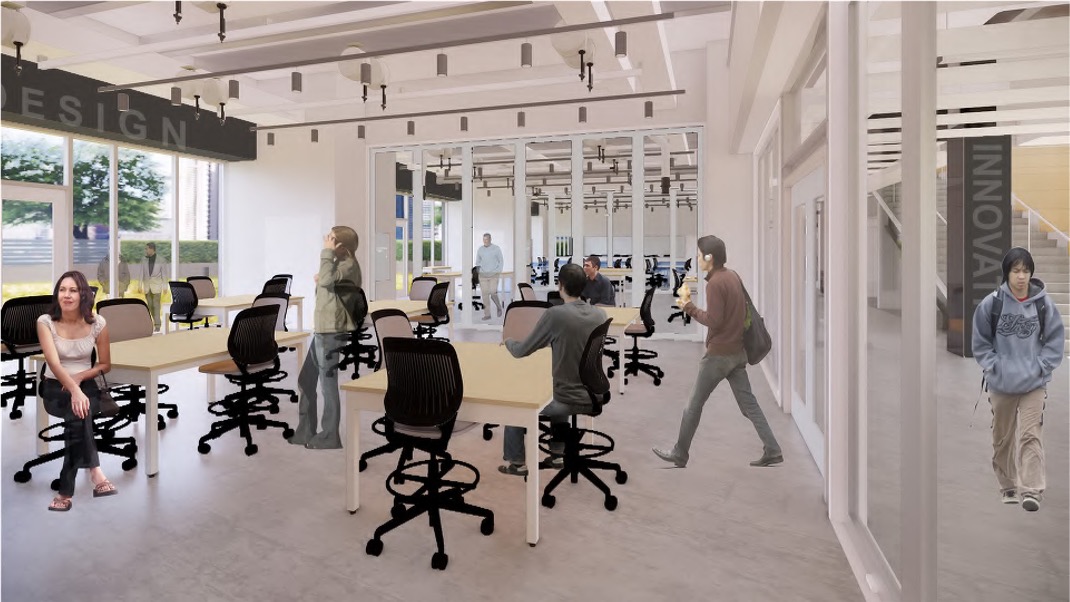 # # #
STEM SUCCESS CENTER
At the heart of the building will be the STEM Success Center, where students can access academic support services across multiple STEM disciplines. The center will be staffed with faculty supplemental instructors and peer tutors who will provide drop-in tutoring and just-in workshops. The center has flexible furniture and multiple seating areas to facilitate workshops, large and small study groups, and individual study spaces. Large floor-to-ceiling windows will bathe the space with northern light and views of Jeff Kunde Hall and north Santa Rosa.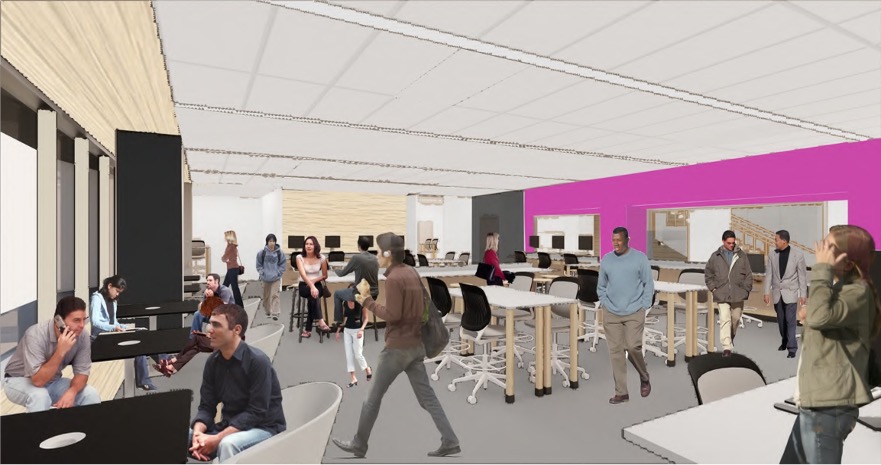 # # #
STUDENT-FOCUSED LEARNING SPACES
Student gathering spaces are an intentional design component of the building. Throughout the Lindley Center for STEM Education, there are areas for students to come together to collaborate, study, meet, and support one another. Pictured below is the Learning Staircase, which connects the first and second floors and creates a hub of learning as students enter or move around the building. The second floor has designated student club space and multiple alcoves are situated throughout the building for students.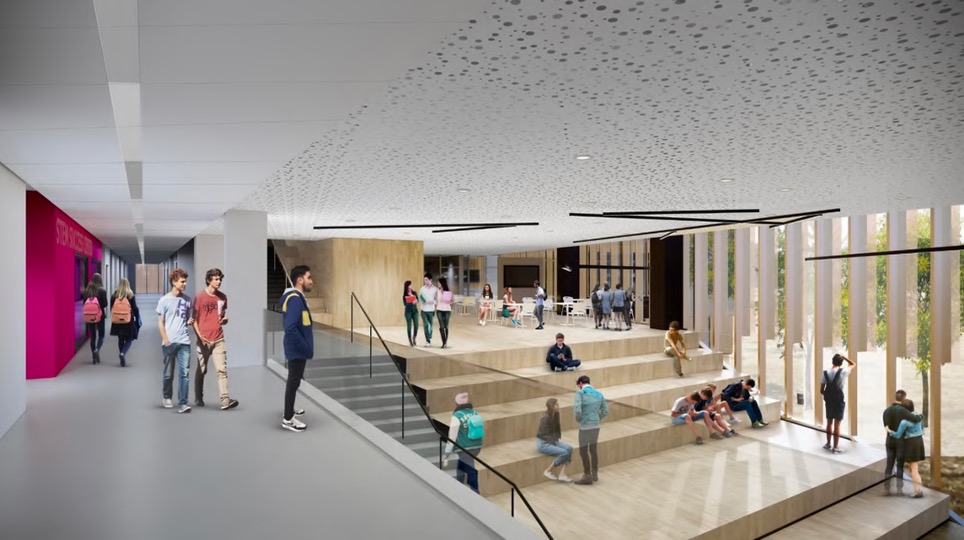 # # #
MESA COMMUNITY COLLEGE PROGRAM
The MESA (Mathematics, Engineering, Science Achievement) Program will be located on the first floor adjacent to STEM academic programs, moving from its current location in Bertolini Hall. MESA for decades has successfully supported first generation and financially challenged students transfer to four-year institutions as STEM majors. One important activity of MESA is engaging students in research projects among its wide range of retention activities. By being adjacent to the Innovation Center, this co-location will create more opportunities for MESA students to engage in hands-on learning.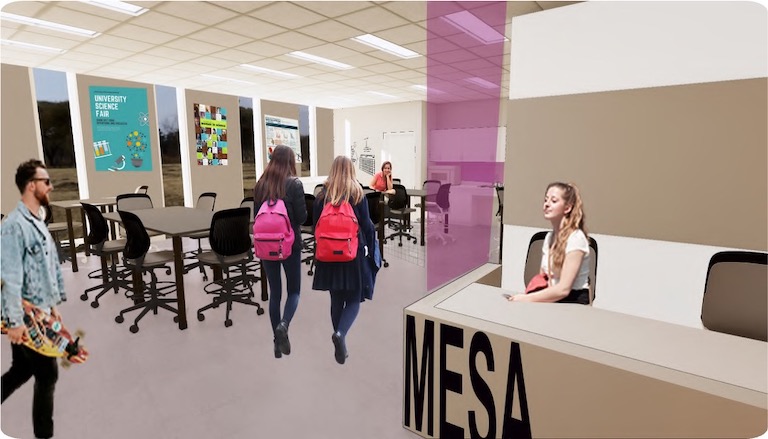 # # #
EXPANDED CHEMISTRY & PHYSICS LABS
The third floor will house the Chemistry program with enhanced laboratories, dedicated student research space, and state-of-the-art instrumentation lab with equipment found commonly in industry and research universities. The Lindley Center increases the laboratory space from three to five, with the organic chemistry lab containing fume hoods for each student pair. The Physics program will reside on the second floor, with two expanded labs, a digitally-enhanced discussion room, and dedicated lecture room.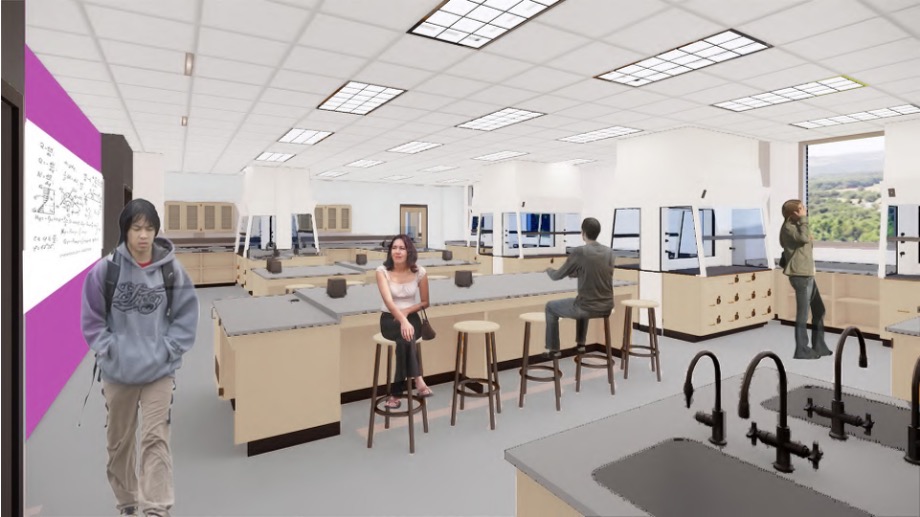 # # #
STEM Quad
The southern courtyard of the Lindley Center will be completely redesigned in order to connect this new facility with Baker Hall, where the Biological Sciences Department is located. The redesigned STEM Quad will have multiple seating areas, hardscape for hosting events, and electrical outlets throughout to support student projects and booths. The STEM Quad will host drought-tolerant and native plants that were intentionally selected for their instructional value and interest.